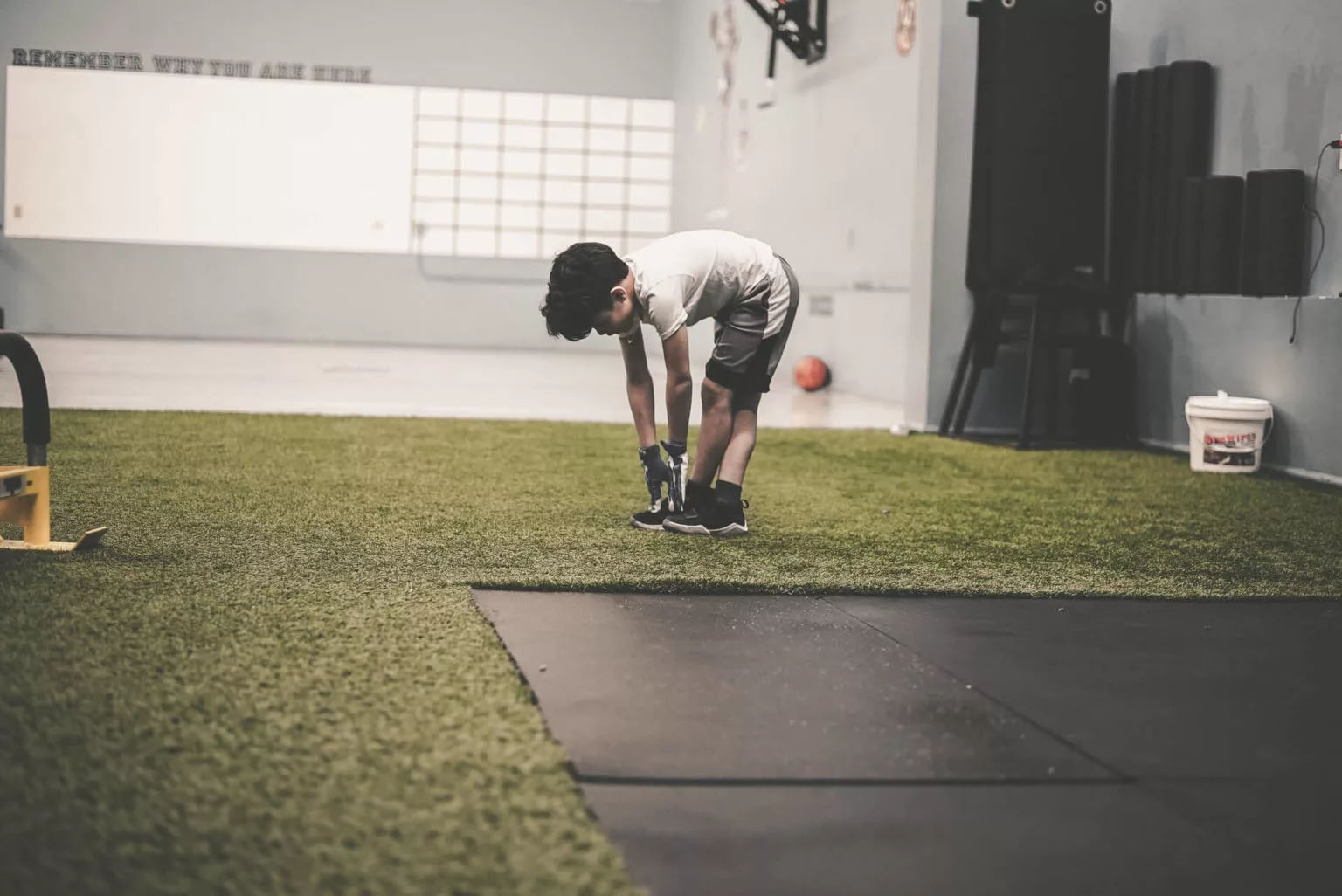 Artificial turf for playgrounds can make for soft, safe, and vibrant alternatives to natural grass in many areas.
It might not seem like it initially, but artificial turf can be eco-friendly and provide substantial savings in maintenance costs and time.
Athletic fields, sports facilities, golf courses, schools, and even homes are adding artificial playground turf for backyards and commercial facilities. It's exciting to see all the new ways that artificial turf can be utilized. But what about the future? Here are five emerging artificial turf applications that will change the way we enjoy playgrounds in the coming years.
Eco-Friendly Leisure Areas
Across the country, schools, neighborhoods and municipalities are turning to artificial turf for playgrounds to reduce their environmental impact. A synthetic surface is easier to maintain than a traditional playground, and artificial turf can be used for playgrounds in any climate where most grass can't grow, such as at high altitudes or hot climates. Synthetic lawns don't require watering, fertilizing, mowing, or pesticides.
Kid-Friendly Adventure Playgrounds
Playground surfaces made from artificial turf are an important tool for engaging children in active play. They provide the perfect surface to develop their physical and social skills such as balance, agility, cooperation, leadership, communication, and more. This makes artificial turf a great choice for adventure playscapes that help kids be kids. In the future, we're going to see more kid-friendly adventure playgrounds, and that means artificial turf will often be their foundation.
One of the reasons why synthetic turf will be a more preferred option is because of the challenges natural surfaces can pose for children. Grass is soft, but artificial turf has a more even, durable surface designed with safety in mind. Natural grass can become slippery in wet conditions or muddy after it rains, so artificial turf offers better grip even when barefoot. Artificial turf for playgrounds is slip-resistant, can withstand heavy foot traffic, and will outlast natural grass, making it a better investment.
Innovative and Interactive Play Experiences
Today's artificial turf can be used in so many ways apart from the usual playground turf for backyard spaces. It mimics natural grass, sand, dirt, and more, which means it can be installed on any surface for an innovative playground experience. This is a great way to keep children engaged and having fun while also providing them with sensory awareness of their environment through different textures. Future applications of artificial turf for playgrounds will also include installation in indoor and outdoor interactive play facilities.
Think of innovative indoor gaming playgrounds or interactive sports courts that children enjoy playing on. Artificial turf for sports facilities provides the unique experience of being able to bounce, slide and kick balls across surfaces like artificial grass but also be soft enough for a child to fall onto with their playground equipment or athletic field without any risk of injury. With green spaces becoming more and more scarce, artificial turf is a way to bring the outdoors in for more interactive play experiences.
Destination Playgrounds
Destination playgrounds of the future will combine every aspect of adventure, variety, social atmosphere, and 'out of the box' design to achieve an all-inclusive play environment. In order to create such an immersive experience for people of all ages, including children, artificial turf for playgrounds will play a significant role in the overall designs. More cities are creating these spaces to promote a healthier and more active lifestyle for their residents.
Most of these destination playgrounds are themed and embrace all abilities and ages, drawing local communities and tourists alike. Such playgrounds might include artificial turf applications in the form of a soccer field, basketball court, and jogging track. When combined with shady trees, water fountains, art installations, natural landscaping, and other amenities found in destination playgrounds these days, artificial turf will make these spaces even more inclusive.
Resilient Playgrounds in Public Spaces
Artificial turf for playgrounds can be used for a variety of creative pursuits apart from playground turf for backyards. In the future, synthetic turf will be the leading surface for playgrounds because of its low maintenance and the way it represents a resilient space to play.
Artificial turf can withstand heavy use better than any other surface, making it ideal for future urban architecture and spaces in constant use for a range of purposes. Artificial turf is also the perfect solution to make playgrounds more inclusive and accessible, as they will be able to accommodate wheelchairs, strollers, and scooters without any risk or injury. The artificial surface ensures that everyone can use them equally while keeping in mind safety standards.
---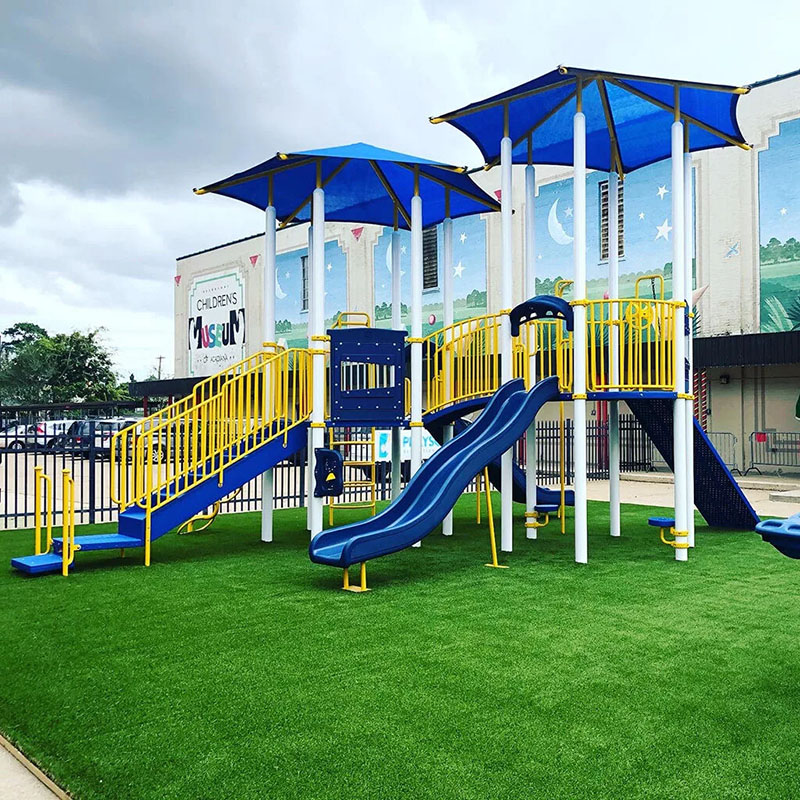 Consult FusionTurf for Innovative Artificial Turf
The playgrounds of the future will revolve around the use of artificial turf. The benefits of artificial turf in playgrounds are numerous, and the applications for artificial turf have expanded significantly over the years as more homeowners and commercial facilities embrace its benefits. Artificial turf for playgrounds is safe, durable, low-maintenance, eco-friendly, and has built-in drainage making it a great alternative for outdoor play areas.
At FusionTurf, we bring you premium-quality artificial turf with a variety of artificial grass fibers and textures. From colored artificial grass to synthetic sports fields, we have the perfect artificial turf solution for your playground needs.
Contact FusionTurf and get information on artificial turf installations and artificial lawn applications, including playground turf for backyard living spaces to enjoy time with family and friends without the hassle of yard work.
---