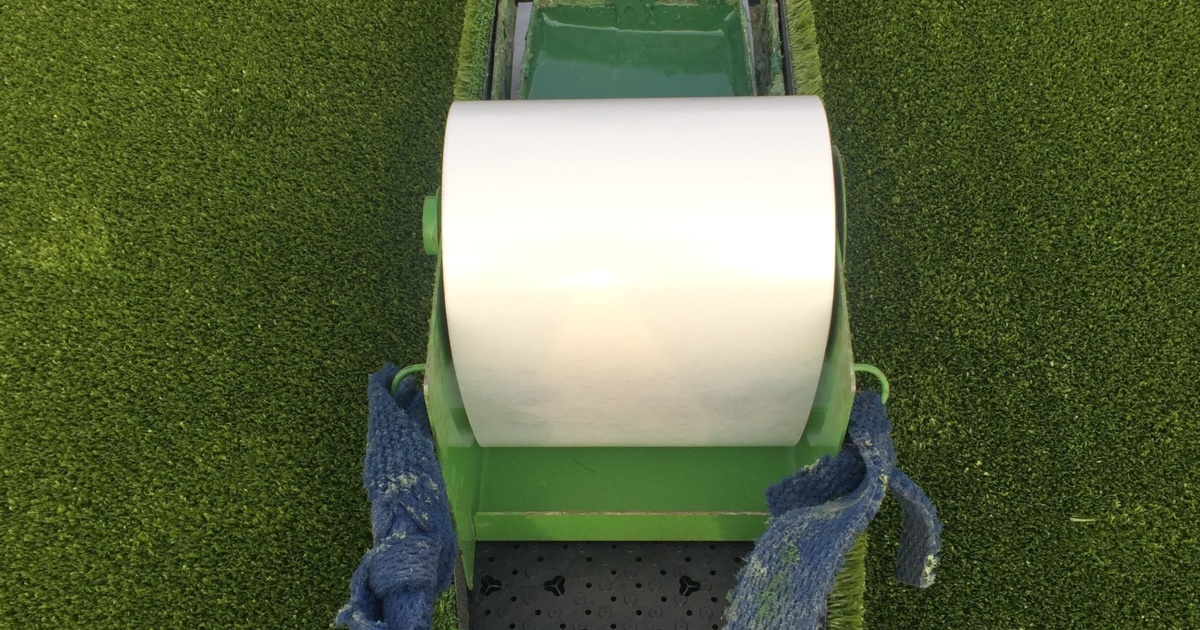 These days, it is essential to be diligent when it comes to our finances and the environment. Fortunately, we can do both when we install turf.
Artificial grass requires little to no maintenance, unlike live grass, which needs to be cut and trimmed regularly. This alone saves water and energy for the environment—and time and money for you.
But there's another benefit that not everyone thinks about. When it comes to drainage with artificial grass, it beats live grass every time.
Artificial grass drains water through the holes that line the underneath portion of the grass. Due to this accelerated draining process, artificial grass will dry quicker than live grass after rainfall and will not accumulate mud puddles in the process.
No mud means fewer slip-and-fall accidents and no summer breeding grounds for mosquitos. Of course, kid shoes and pet paws stay cleaner too.
Environmental Factors
Without proper drainage, standing and pooling of water occur in low spots of the lawn. This leads to drowning the grass and loosening the soil, causing erosion. With artificial grass drainage, you won't have to worry about these issues.
Artificial grass requires no fertilizers, which benefits the bays, lakes, and oceans from pollution due to urban run-off. Another benefit of artificial turf drainage that helps the environment is that you'll never need pesticides. Artificial grass is not susceptible to lawn pests and diseases.
Of course, we can't forget the obvious one. Not using a lawnmower reduces carbon emissions, which is better for the environment. Live grass covers a wide surface area, especially on golf courses and at sports facilities. Lawn equipment engines produce up to 5% of the nation's air pollution, so less mowing helps you and the ecosystem.
Pet and Financial Benefits
It turns out, turf doesn't just help people. Artificial grass with drainage capabilities also provides pets with a paw-pleasing play area that won't leave unwanted stains or discolored grass. A built-in drainage system allows liquids to channel straight through the turf.
Aside from a significant reduction in your water bill, you also save on landscape maintenance charges, and some cities even offer rebates to synthetic grass owners. Artificial grass is, without a doubt, extraordinarily cost-effective.
Components of Artificial Turf Drainage
There are many considerations that go into the installation process of artificial grass. The slopes, soil content, and rainfall conditions all factor in. Depending on where your artificial grass is being installed, the land may require some preparation.
Leveling can make any space ready for artificial grass. A team of installation experts will eliminate any dips and valleys in the area, typically where water pools.
As part of the artificial turf drainage process, the installers may need to develop channels to allow water to drain down a slope into one specific lower area.
Blades are coated to prevent them from slipping out of their backing. The coating is very porous, allowing the water to drain through the product and into the ground.
Thanks to all of these considerations, you won't need a separate water removal system installed because the new grass comes with its own highly effective drainage under artificial turf.
Start the Conversation with FusionTurf
At FusionTurf, our high-quality artificial grass with drainage is made with bio-cell polyurethane, which helps provide a lifetime of cost-effective and environmentally favorable results.
Water conservation is more important now than ever before, and helping to save our planet is vital. Whether you are looking to upgrade and improve your lawn or make a playground for your kids, FusionTurf has everything covered. With a great, natural feel, even when barefoot, you won't be able to tell the difference between artificial and live grass.
FusionTurf products are proudly made in America, and they all come with a tiered warranty. Start on your dream lawn so you can save money long-term and help the planet. Contact us and see why we offer the best artificial turf products.